SmartStart Aerial Lidar Education
Learn to boost productivity without overworking your crews.
Results in field. Accessible pricing. Standout service.
Collect aerial lidar, gain new skills, generate new business.
Everything you want to know about aerial scanning.
We turn your business into a topographic data generating machine. 10X your productivity without overworking your crews with SmartDrone's leading edge technology, and a simple business model you won't find anywhere else. We demonstrate a full end-to-end collection of up to 50 acres at your job site using the Discovery platform.
Pt. 107 Study Resources

Learn Lidar Basics

Scan up to 50 Acres & Process Data

Visit Your Office - Import Data
Service Areas
Houston
Dallas
East Texas
Ft Worth
San Antonio
Austin
Plano
Denton
Sugar Land
Oklahoma City
Tulsa
Headquarters
2014 Deerbrook Dr.
Tyler, Texas 75703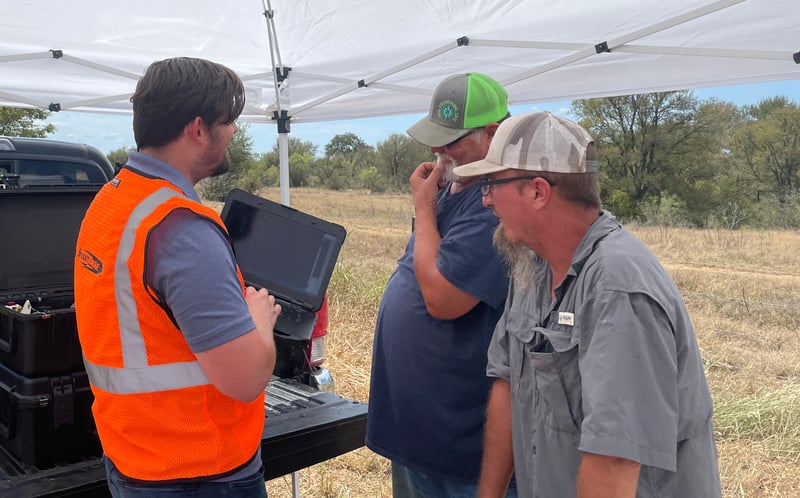 How it works
Frequently Asked Questions
Do you teach us to pass the Pt. 107 test?
We provide study guides and resources that our team and dozens of other teams have used to pass the FAA Pt. 107 test. This is a study guide, and still requires you to study for about 5-10 hours across a 1-2 week time period.
What do I need to provide for SmartStart?
We need an area to scan that is less than 50 acres with any type of vegetation. We also need controls or monuments in place (and a known, opus corrected point) on the job - this will let us provide same-day data and lets you see the full end-to-end process.
Where is this event located?
We come to your job site and your headquarters, providing all materials & instruction.
We serve the following major regions, and any smaller cities close to these: Houston, Dallas, East Texas, Ft Worth, San Antonio, Austin, Plano, Denton, Sugar Land, Oklahoma City, Tulsa.
What is the cost for SmartStart?
SmartStart costs $2,500 and includes all costs for our team of trained pilots and instructors, travel to your location, and data collected and processed at your job site.
Can I credit the cost toward purchase?
Yes - we will be coming to you and instructing all team members present how to deploy, collect, and process lidar data, and how to get licensed to fly legally. Within 30 days after your SmartStart event you can credit the full amount toward purchase of the Discovery platform.